A Human Centered

UX Designer
Hi! I'm Erik, a UX & Service Designer. Based on empathy, I help my clients to deliver desirable user experiences to their customers. Together, we make sure that the experiences we design for, perfectly combine human needs & behaviours with business objectives and feasible technology.
This is called human-centered design. I'll set you up with a super-concrete, quick & effective process that delivers optimal business value every time. This way of working is referred to as Design Thinking.
You may have heard different terms such as UX design, UX research, Service Design, CX, Lean, Google's Design Sprint, Design Thinking, and more. In reality, most of them are just slightly different approaches to work in an effective, agile way with design and innovation. A design thinking process can be run in a month. In a week. Or in an hour. It's not about the format – it's about the outcome, and to optimize impact.
Release yourself & your co-workers from wasted meetings, the fear of doing mistakes, and all the risks that comes out of opinion-centered work. You want your product or service to be desired by you customers. You want work to be fun & engaging. You want motivated employees.  So let's make it happen.
I work side by side with you:
Setting up a customer centric workflow in your company
Teaching effective methodology to your teams
Alignment between product, sales, customer support etc
Combining customer needs with business viability & technological feasibility
You will get:
Clear, measurable ROI (return on investment)
Motivated employees, and less boring meetings
Alignment & efficiency within the organization
Sustainable growth through customer loyalty
See full resumé & client recommendations on LinkedIn.
Contact me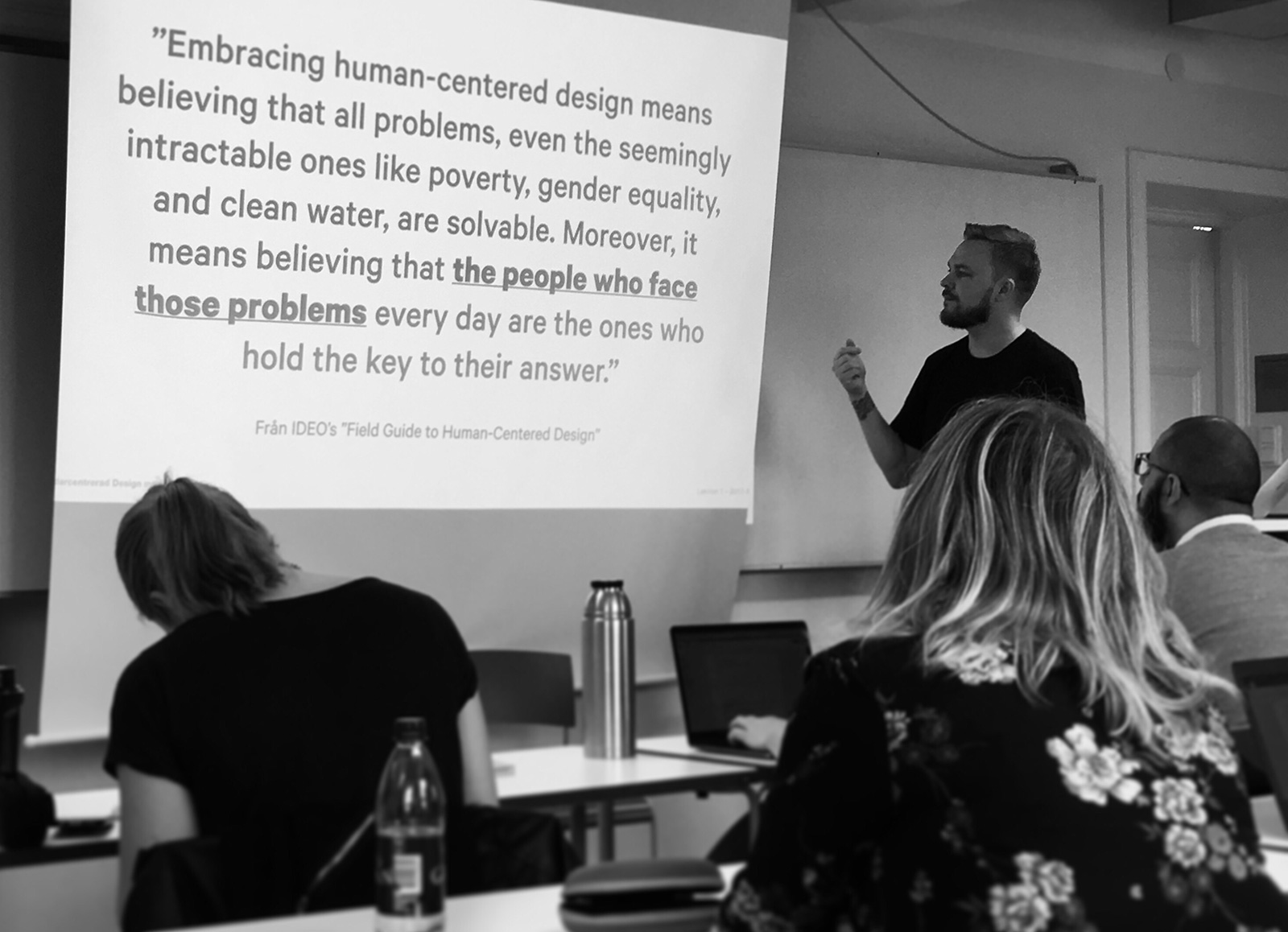 Photo by: Gabriella Gonzalez Carvajal
I'll teach you to work like I do:
Research, user studies, interviews, testing and prioritizing
Impact & empathy mapping, customer journeys etc
Building a shared business vision & value proposition
An agile & iterative workflow based on real world insights
MVP prototypes, wireframes, design systems etc
Working with UX as a Service & Business Designer
As a UX and Service Designer, I've worked with lots and lots of companies, industries & organizations during my 13 years as a designer. It has taught me a lot on how to enhance not only the interfaces, but rather all the touch points and the business model itself, of a company.
For me, UX is about working together with cross-disciplinary competences. It's definitely about delivering extraordinary experiences to users (i.e your customers). But it's also about all the invisible details & processes running in the background; how your CRM system works, how support handles complaints & aligns with sales and product development, and how your employees can deliver maximum value to your business, by focusing on what's important for your customers.
The idea of a "UX genius" is a lie. There is no such thing as a general "good" or "bad" UX. User Experience work cannot be put as a "polished layer" on top of your organization, or product. It has to be seamlessly integrated in every teams day-to-day work, in order to give maximum effect.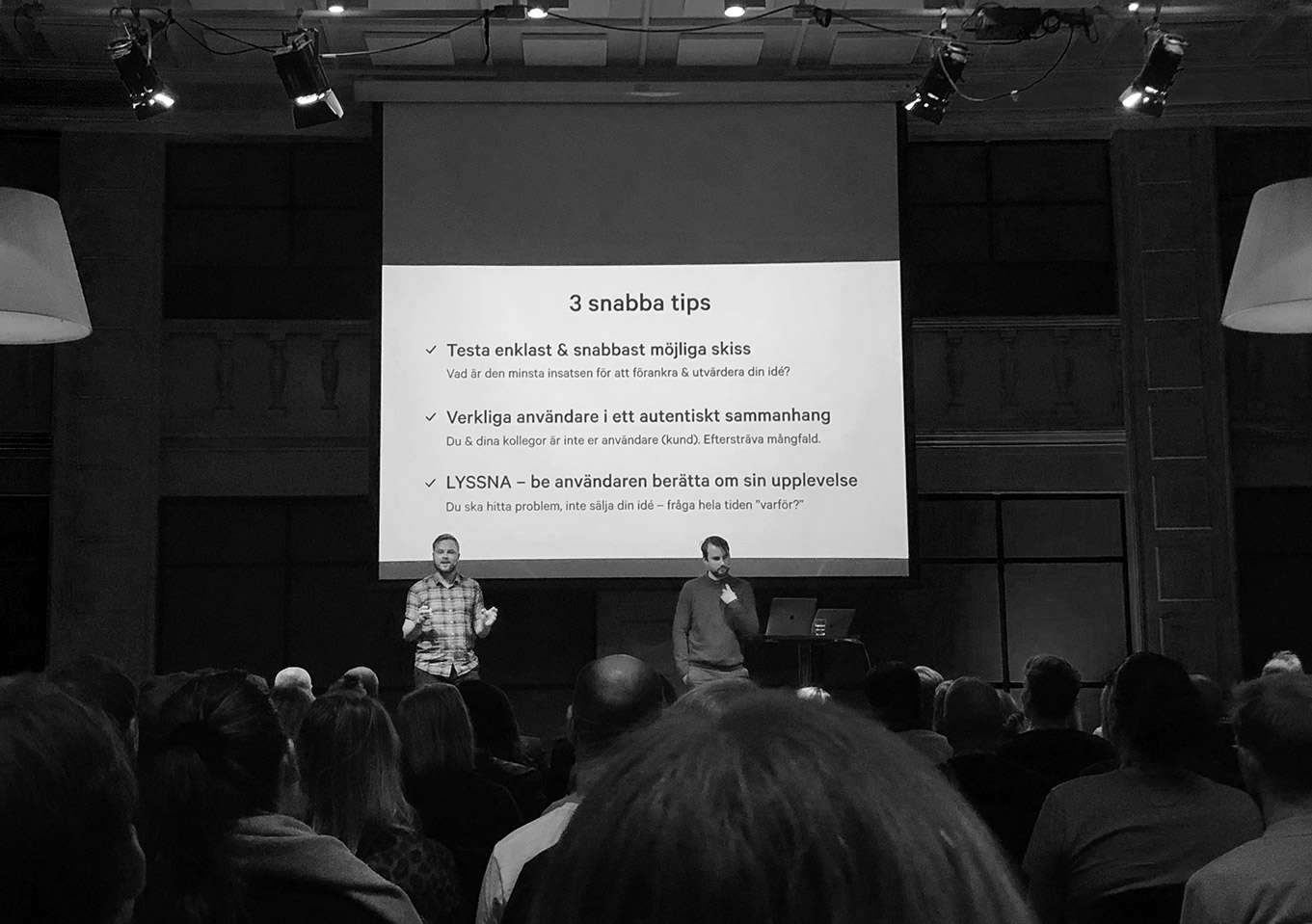 UX & Design Thinking workshops, seminars, and educations
Do you need to boost your UX skills? Are you in the beginning, or middle, of transforming your company to a customer centric focus? I regularly host a lot of workshops & educations during the year, around things such as:
Design Thinking, human-centered design and customer centric work
Customer journey & impact mapping
UX methodology, usability testing and design leadership
See workshops & courses
My clients hire me because they want to be truly customer centric
They often feel stuck – in the fear of making mistakes, in not being able to make informed decisions, and in the lack of a working methodology for creating change. The state in which most companies are stuck, is something I refer to as "opinion-centered".
When companies base everything they do on assumptions, then the risk of every decision or change, is extreme. In a meeting of 10 persons, all working from an opinion-centered approach, there will be 10 different assumptions to consider. Working forward from this is tedious and takes forever.
Avoid the unnecessary expenses of misalignment
Trying to move forward on 10 different opinions is exhausting, and counterproductive. This leads to all those horrible, unproductive meetings that EVERYONE hates. The ones from which you leave with the words "great, you will take action on this", but you have no idea what to do.
Instead, we need to come together around one, single perspective that could give us the most value in return. And this is, of course, the human-centered perspective. We need to unify around the perspective of the customer. And to ensure we can do this in an effective and motivating way, we need a concrete process & methodology to rely on.
Customer journeys for gaining a shared understanding
To work effectively towards enhanced customer satisfaction, improved user experiences and increased business value, we need to start by building a deeper understanding, and empathy, for the ones we design for. By studying the behaviour of your customers, defining their needs and mapping the world around them, we can start to build up visual representations of their customer journey.
What are their biggest gains & pains, and at what point do the occur? How might we improve? Where should we start? These are all questions that get much easier to answer, once everyone in your organisation can align around a shared understanding of the customer.